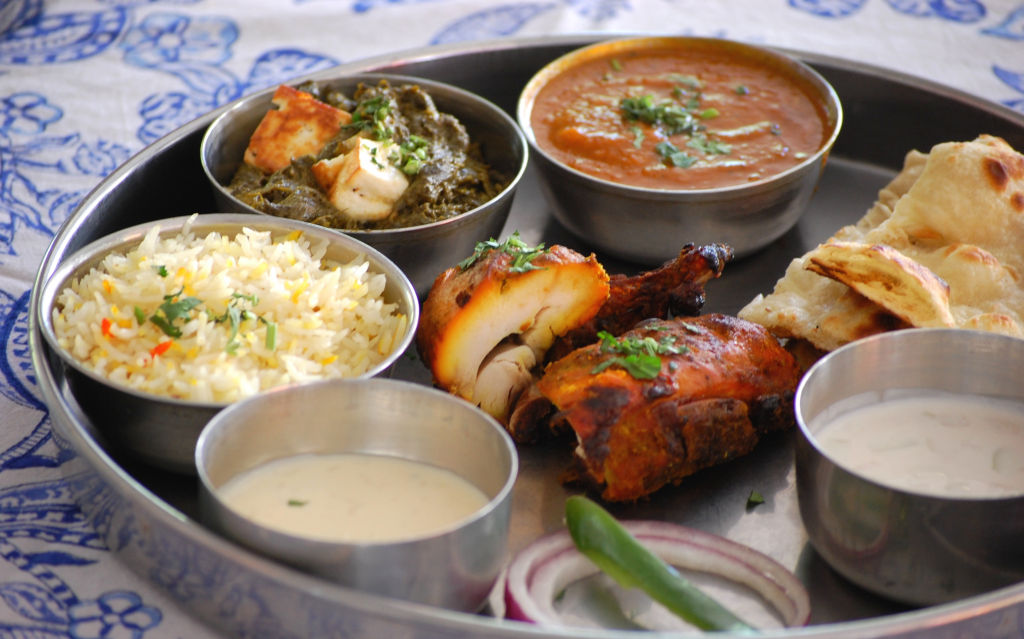 LUNCHEON SPECIALS
Chicken Curry: Traditional dish of India carefully seasoned with an exotic blend of spices, garlic and tomatoes $9
Chicken Tandoori: Baked in a mesquite charcoal clay oven marinated in yogurt, garlic, ginger, herbs and spices $9
Jewel Curry: Mixed vegetables cooked with spices and curry $9
Saag Paneer: Spinach with homemade cheese $9
Channa Bhatura: Garbanzo beans in spiced sauce, with fried bread $9
LUNCH COMBINATIONS (Thaali)
Vegetarian Thaali: Dal Maharani, Jewel Curry, Vegetarian Entrée, Raita, Naan, Rice, & Dessert $11
Non-Vegetarian Thaali: Chicken Curry, Chicken Tandoori, Vegetarian Entrée, Raita, Naan, Rice, & Dessert $11
*Thaalis are not for take-out*
WRAPS
Chicken Tikka: $8
Shish-Kabob: $9
Paneer Tikka $8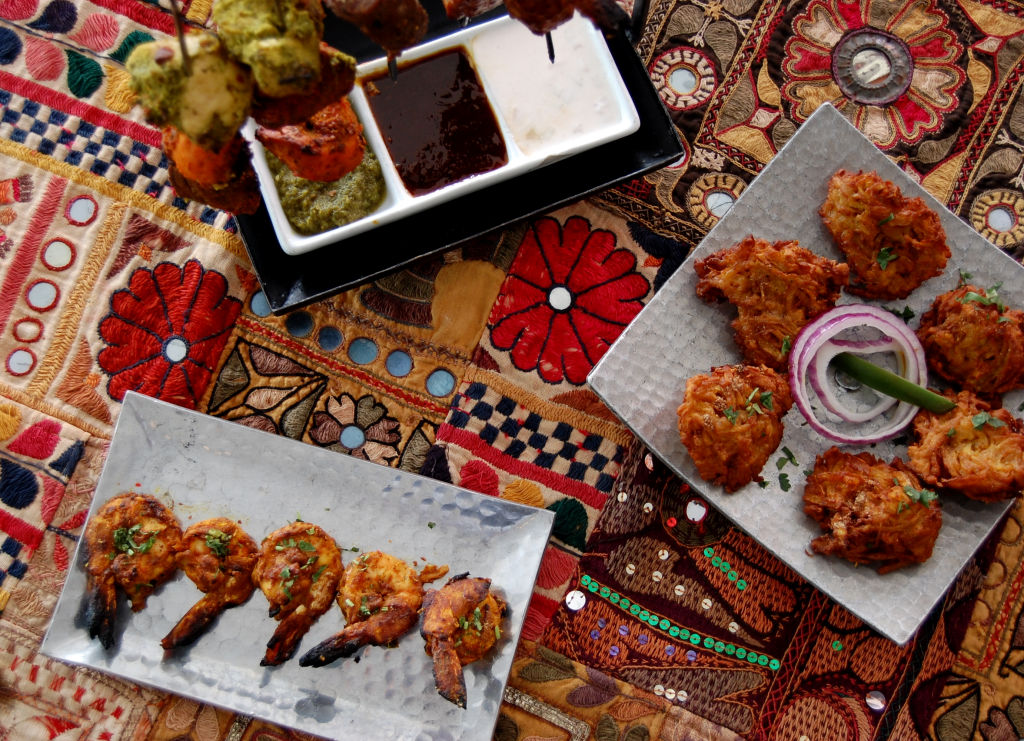 APPETIZERS
Vegetable Samosa: Two crispy pastries stuffed with potatoes and peas served with channa masala $5
Alu Tikki: Two stuffed potato patties served with channa masala $5
Onion Bhaji: Mildly spiced onions batter fried $5
Cheese Pakora: Slices of homemade cheese batter fried $7
Vegetable Pakora: Assorted vegetables batter fried $5
Keema Samosa: Two crispy pastries stuffed with ground lamb served with channa masala $7
Jewel Kabobs: Assorted kabobs of chicken & lamb baked in a clay oven $11
SOUPS
Vegetable Daal Soup: Lentil soup with vegetables seasoned with spices and herbs $4
Mulligatawny Muglai Soup: Lentil and chicken soup with herbs and mild spices $4
JEWEL'S DINNER FOR TWO: $50
(Not for takeout)
Choice of Soup • Choice of Appetizer • Choice of Entrées
Choice of Entrées (All entrées served with rice)
Chicken Curry, Chicken Tikka Masala, Channa Masasla, Vegetable Korma, Lamb Curry, Fish Curry, Alu Gobi, Malai Kofta, Shrimp Curry, Shaahi Paneer
Choice of Dessert
Kheer, Kulfi, Gulab Jamun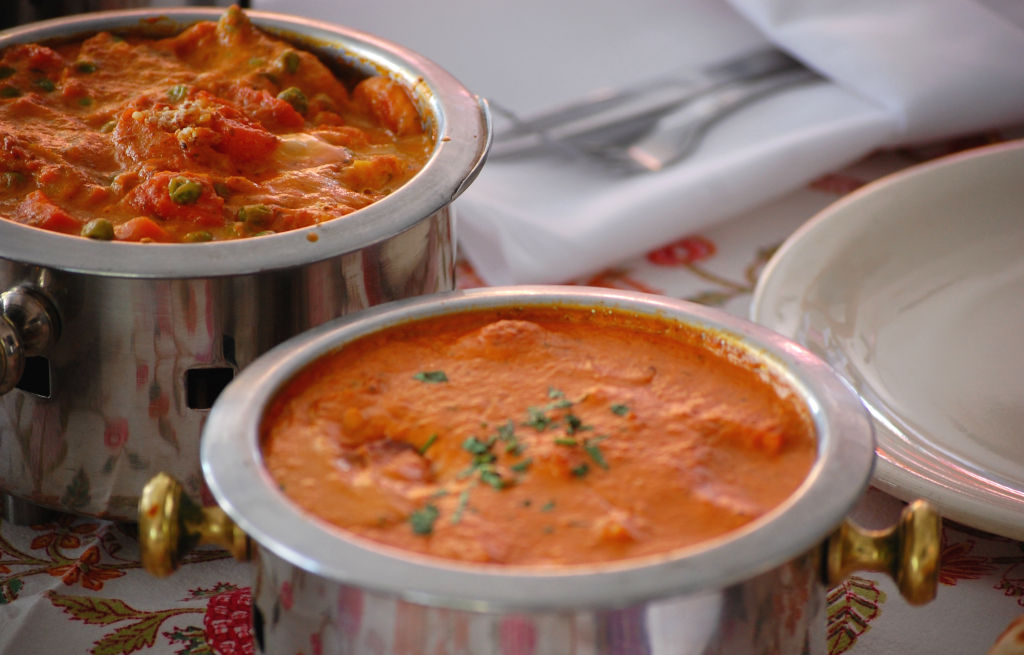 DINNER ENTREES
Served as requested Mild, Medium, or Hot.
All entrées are served with Basmati Rice.
JEWEL CURRIES
Traditional dish of India carefully seasoned with an exotic blend of spices, garlic and tomatoes.
Chicken $15
Lamb $17
Fish $16
Shrimp $16
JEWEL MASALAS
A Jewel specialty and favorite of all! Blend of tandoori and curry cooking.
Chicken $16
Lamb $17
Shrimp $16
JEWEL KORMAS
A very special dish of tender marinated pieces of boneless meat cooked with onions, cream or yogurt, nuts and delicately spiced.
Chicken $16
Lamb $17
JEWEL SAAGS
Boneless pieces cooked with chopped spinach,freshly ground spices, garlic, ginger, onions and delicately added yogurt or cream.
Chicken $15
Lamb $17
Shrimp $16
JEWEL VINDALOOS
Fiery hot dish cooked with potatoes. A specialty of Goa.
Chicken $15
Lamb $17
Shrimp $16
JEWEL KARAHIS
A thick curry made up of sliced onions, green peppers and tomatoes.
Chicken $15
Lamb $17
JEWEL BIRYANIS (Served with Raita)
Basmati rice cooked with meat and vegetables delicately spiced with saffron. A meal by itself!
Vegetable $14
Chicken $16
Lamb $17
Shrimp $16
JEWEL TANDOOR
Baked in a mesquite charcoal clay oven, marinated in yogurt, garlic, ginger, herbs and spices. Served over sizzling onions.
Chicken Tandoori: Half chicken cooked on the bone $13
Chicken Tikka: Boneless chicken kabobs $16
Chicken Ginger Kabobs: Chicken kabobs marinated with ginger & spices $16
Fish Tandoor: Fish marinated and cooked in a clay oven $17
Sheekh Kabobs: Minced lamb blended with onions, ginger, garlic & spices $17
Shrimp Tandoori: Shrimp spiced and cooked slowly in the oven $17
Mixed Kabobs: Assorted Kabobs of chicken, lamb, fish and shrimp $20
Paneer Tikka: Marinated Paneer cooked in a clay oven $14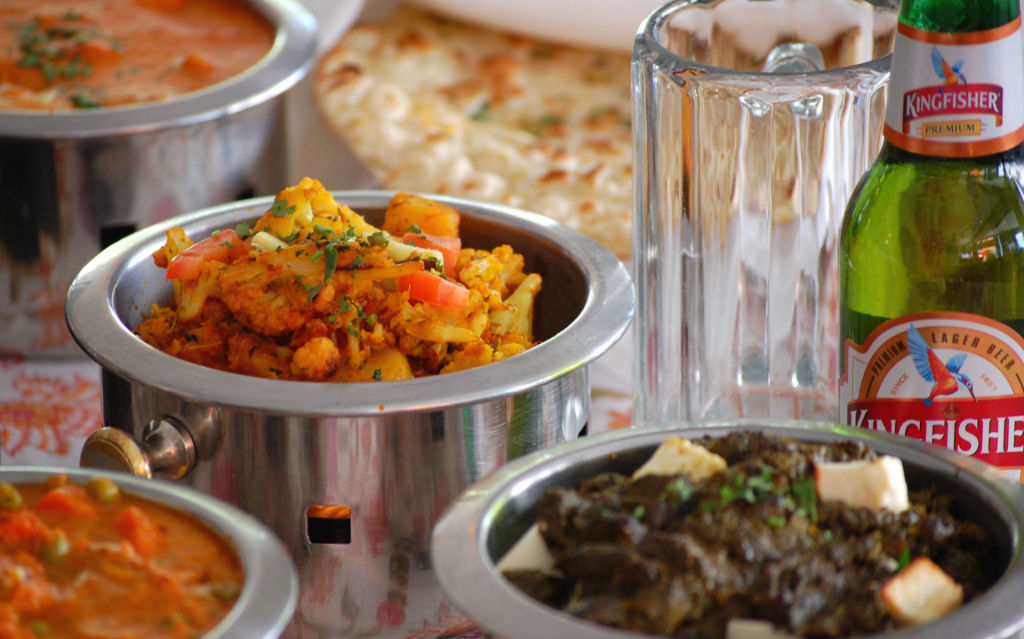 JEWEL VEGETARIAN SPECIALTIES
Over the centuries, India has been known as the cradle of vegetarianism. A special selection of the most popular dishes are included below.
Vegetable Korma: Mixed vegetables cooked with spices and curry $13
Mutter Paneer: Green peas with paneer $13
Daal Maharani: Creamed lentils with aromatic spices $12
Channa Masala: Garbanzo beans in a spiced sauce $12
Aloo Gobi: Cauliflower with potatoes cooked with herbs and spices $12
Dahi Baingan: Eggplant sautéed with yogurt and spices $12
Dal Tadka: Yellow dal (split lentils) $12
Bharta Makhni: Tandoori eggplant with herbs, onions and tomatoes $12
Bhindi: Okra with onions and spices $13
Saag Paneer: Spinach with homemade cheese $14
Shaahi Paneer: Homemade cheese in a masala sauce $14
Malai Kofta: Mixed vegetable balls in a thick sauce $14
BREADS
All breads are baked to order in a clay oven.
Naan: Popular Indian style leavened bread $2
Paratha: Multi layered buttered whole wheat bread $3
Roti: Whole wheat bread $2
Garlic Naan: Naan with garlic. Most popular! $3
Garlic Roti: Whole wheat with garlic $3
Onion Kulcha: Leavened bread stuffed with chopped onions $3
Onion Roti: Whole wheat bread stuffed with onions $3
Paneer Naan: Bread stuffed with homemade cheeses and spices $4
Aloo Paratha: Bread stuffed with sliced mashed potatoes and spices $4
Keema Naan: Bread stuffed with spiced ground lamb $5
Puri: Deep fried, whole wheat flour puffed bread $2
Bhatura: Deep fried, leavened fine flour bread $2
SIDE ORDERS
Mango Chutney: $3
Raita: Yogurt with potatoes and cucumbers $3
Pickle: $2
Papdum: $2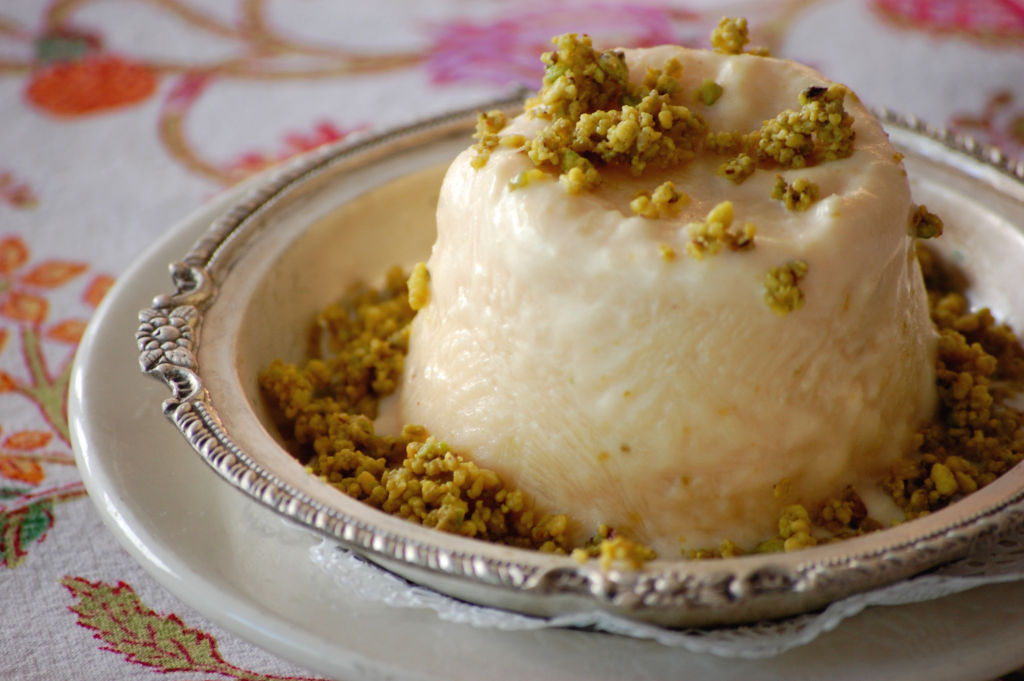 DESSERTS
Kulfi: Indian ice cream made with pistachio or mango flavor $4
Gulab Jamun: Two round cake-like balls in a sweet rose syrup $4
Kheer: Creamy rice pudding with sprinkled pistachio $4
BEVERAGES
Lassi: Homemade yogurt shake, choice of sweetened, salted or plain $4
Mango Lassi: Mango yogurt shake sweetened $5
Chai: India made tea with cardamon and fennel seeds $3
Coffee, Coke / Sprite: $2
Perrier: $4
Juices: orange / grapefruit / cranberry $3
INDIAN HERBS & SPICES
Below are the herbs and spices that we use in our kitchen.
Turmeric: Is considered to have many medicinal values; strengthens the stomach, treats sprains and bruises.
Cumin: Cumin seed and ground cumin are both integral to our cooking. It serves as a digestant, as well as being used to treat anemia and the common cold.
Coriander: Is the seed form of green cilantro.
Black Cardamom: Has an earthly, woody and smokey taste.
Cloves: We use whole cloves. Many Indians chew cloves to soothe and alleviate toothaches.
Cinnamon: Is used in both sweet and savoury foods.
Saffron: You need to use very little to give off a notable aroma.
Garam Masala: This is our signature spice that distinguishes our curries from many others. Our Garam Masala is ground cumin, cinnamon, cloves, black cardamom, nutmeg and more…
Jewel of the Crown
7373 E Scottsdale Mall Ste 1
Scottsdale, AZ 85251
Tuesday: Closed
Wed - Mon: 11am - 2:30pm | 5pm - 10pm
Fri - Sat: Open until 10:30pm